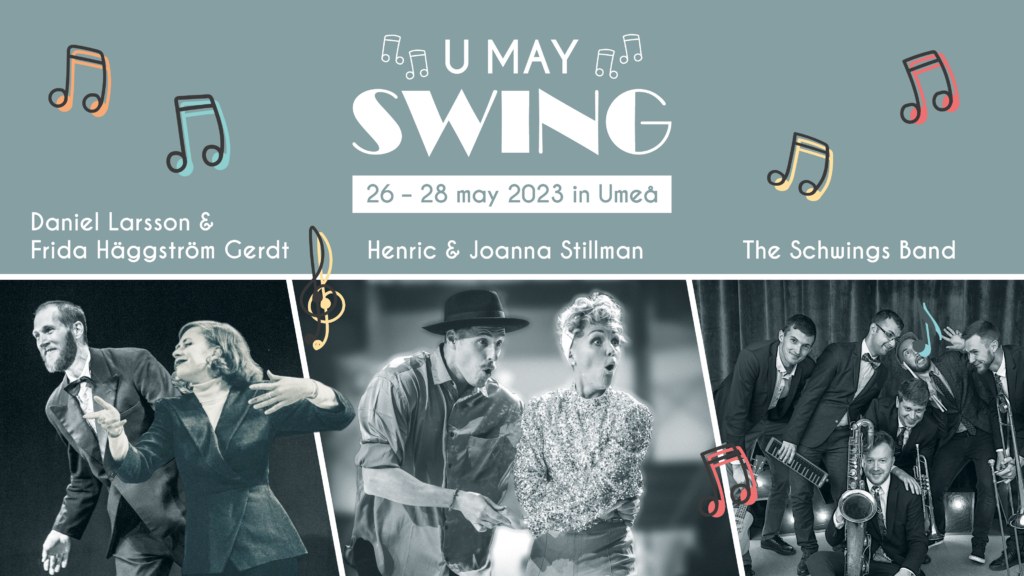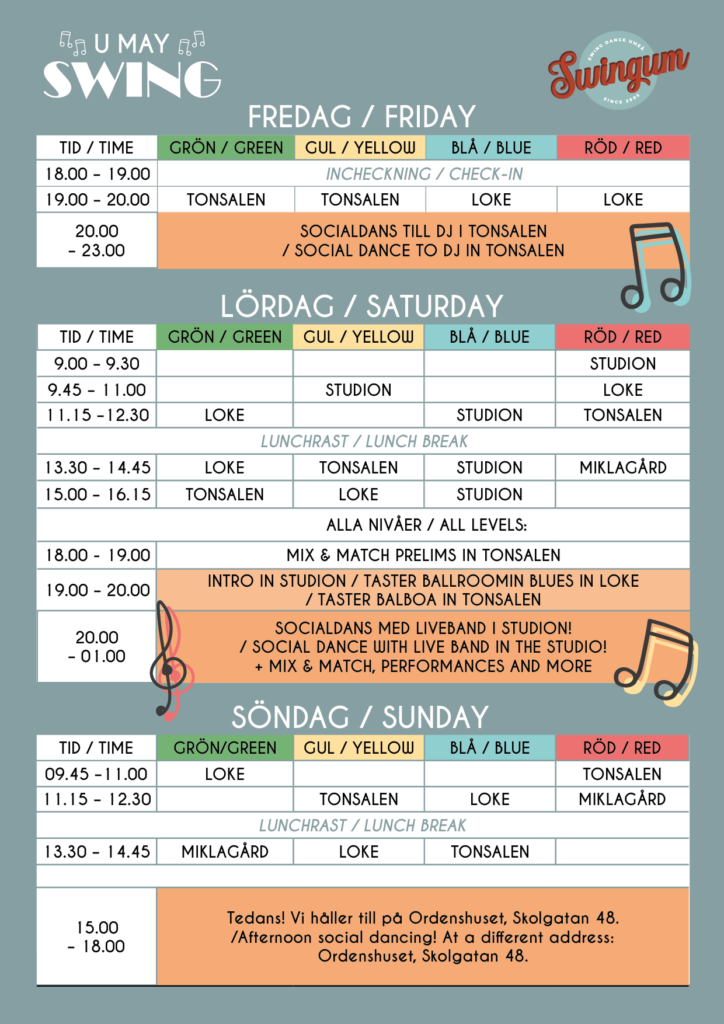 The beautiful city of Umeå once again invites you to U May Swing the 26–28th of may, a weekend packed with dance classes, fantastic music, unique personal meetings, and new for this year – competitions and shows! U May Swing 2023 will host Lindy hop classes and open level tasters with international and local instructors at convenient walking distance within central Umeå. The weekend will kick off on Friday night with a taster class followed by a welcome party with DJ-music. Saturday night you can dance to the amazing vintage swing band The Schwings Band live at Umeå Folkets Hus. A cozy tea dance on Sunday afternoon will wrap up the intense weekend at Ordenshuset with fika, a small flea market clothing shop and more great music!
The weekend welcomes everybody and this year's edition will offer four levels. You cannot register for the top level, but an audition (held by the external instructors) will split the highest group (Blue/Red) into two. NB: if you do not have the ambition of getting in the top level you do not need to attend the audition and you will be placed in the lower (Blue) of the two groups. We look forward to a wonderful weekend with lots of dancing, music and good times together with
you!
Weekend Package – Ordinary Bird: 1500 SEK, Late Bird (May): 1600 SEK
8 hours of Lindy Hop and tasters for each track.
(Green, Yellow, Blue or Red)
All parties/social dances. (Friday, Saturday and Sunday)
Party Pass: 400 SEK
All parties/social dances. (Friday, Saturday and Sunday)
Party Entrance Fees
Friday: Folkets Hus social dance – 75 SEK
Saturday: Folkets Hus The Schwings Band – 300 SEK
Sunday: Ordenshuset tea dance – 100 SEK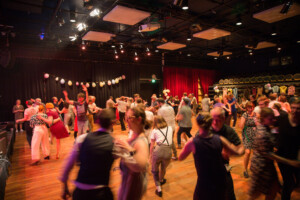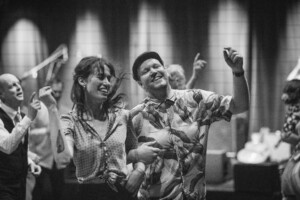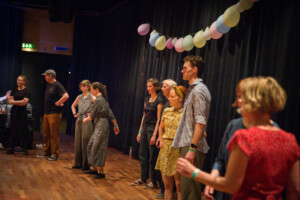 Photo: Mikael Stiernstedt
mikael.st@gmail.com
You are rather new to the dance. You have participated at least one lindy hop basic course, but perhaps not social danced much yet. Or – it was a long time ago you danced and want to start over again. On this level we continue to practice and refine the fundamental figures, and explore new steps and techniques. You have probably danced regularly less than a year and also tested to dance socially a few times.
Register here/Registrera dig här
You feel rather confident in your dance and have probably danced regularly, both in courses and socially, during 1-2 years. You can easily mix different types of figures and footwork, started to get used to higher tempos and are not afraid of challenges with new figures, techniques and musicality. On this level you like to experiment and improvise and you have started to adapt your dance to the music.
Register here/Registrera dig här
At this point you have danced regularly for several years and dance like a fish in the water. You listen to the music, can vary your footwork, dance at higher tempos and add styling and variations to your dance. You have probably participated in all the courses at your local scene, been to workshops in other places and want more. At this level basic figures, such as swing-outs, feel effortless even at higher tempos. This is a level that you can stick around on for a while.
Register here/Registrera dig här
This is the top level where you ticked off all the other level descriptions. The classes will get back to
basics and you are ready to work on your own touch to your dancing, being creative with your
partner and music, and playing with rhythms, variations and concepts of material you are probably
already familiar with. If you hesitate, you are probably better off registering to a lower level.
Register here/Registrera dig här
(Note that you register for the Blue/Red level and it requires an audition at the start of the event to enter the Red level. / Observera att du registrerar dig för den blå/röda nivån och att det krävs en audition i början av evenemanget för att komma in på den röda nivån.)
60 SECONDS CHALLENGE!
MIX & MATCH!
Amateur dance competition where everybody can join. In the qualifications, everybody dance at the same time. In the finals, one couple at a time will be spotlighted!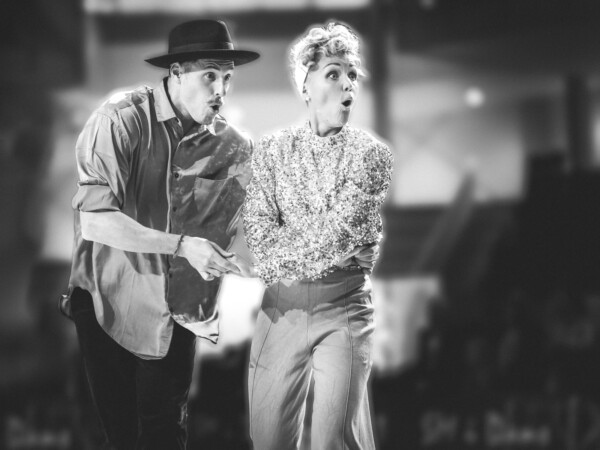 Henric and Joanna Stillman are World champions in Lindy Hop and Boogie Woogie, coaches of the Swedish national swing dance team, and TV stars from Mästarnas Mästare!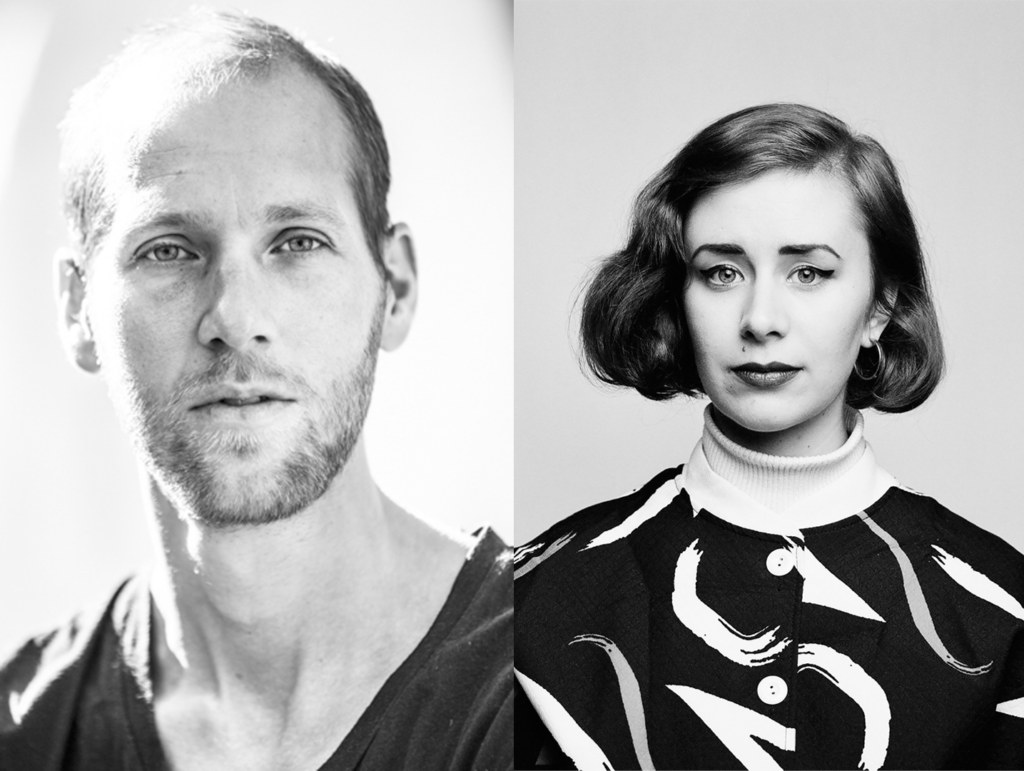 Swingum are excited to also provide classes featuring our own local instructors:
Axel Thorén: The creative and inspiring local dance star Axel keeps lindy hop close to his heart and dedicates both heart and style to it.
Erik Lindahl: as one of the founders of Swingum, Erik knows more about swing than most people do. He loves sharing the joy of dancing through teaching, performances, event organizer and, occasionally, by playing the piano.
Madelene Holmgren: Madde knows how to dance with confidence and style, and she loves sharing it in the classroom setting in a joyful and easy way. Always spot on with helpful comments.
Henrik Persson: as one of the local old-timers, Henrik keeps energizing the local scene with ideas, music, and inspiration that he collects from traveling to global events. He is an instructor, competitor and regular participant at both local, national, and international dance events.

Linda Brynolfsson: the local queen of Swing that can both create music, dance with fantastic technique and style, and energize the surrounding with spontaneous comments (clear as sausage water, circular like an egg, etc…)
Felicia Augustsson Ochoteco: the energetic and powerful lady that can make anybody feel like a pro shares both tons of inspiration and how to do it with style!
Anna Grön: dancer since ages with many years of foxtrot, bugg and social dancing before discovering the swing world. A steady corner stone of the Swingum instructors.
Mikael Brändström: "Micke" is the always-happy dancer that cares about his dance partners as no other. Without sacrificing technique or musicality, he makes his followers feeling like the queen of the dance floor.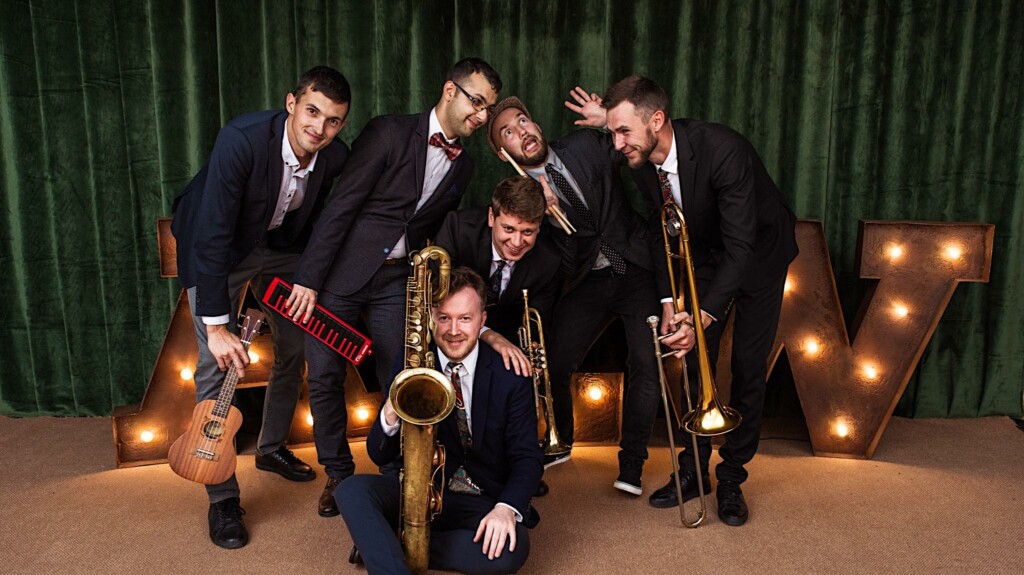 The Schwings Band are a vintage swing and New Orleans style jazz band hailing all the way from the capital of Lithuania, Vilnius! Founded in 2011 by legendary jazz musician and multi-instrumentalist Remis Rančys. The Schwings rapidly rose to popularity in Lithuanian jazz festivals, clubs and lindy hop dance events. Initially playing golden standards of swing, Brazilian, and gypsy jazz, the band has since begun recording original compositions.
Their recent albums "Plombyras" ( January 2022 )"Fyodor" ( June 2019 ) "Teisutis" (March 2019) "Good Thing" ( August 2020 ) and " Plazi" ( November 2020 ) reached the #1 bestseller in swing/jazz category on Bandcamp.
Now performing internationally, they have 'schwung' their Lithuanian spirit across the UK, Switzerland, Germany, Spain, Greece, Poland, Estonia and Finland. With music as diverse as the seasons – the Schwings can burn like summer, be nostalgic as autumn, pure as winter and uplifting as spring – all in the space of one evening.
Click here for the bands page on Facebook!
Photo taken from the band's Facebook page (https://www.facebook.com/TheSchwings/)
Ballroomin Blues
Learn couple dancing to the slow jazzy blues music often played by swing bands. This taster will cover the basics of blues dancing and some moves to use on the social dance floor. We will dance in both close embrace and in more open positions.
Teachers: Nina & Tobias from Birch City Blues
Balboa
Try balboa which is a close embrace swing dance form the 1930's. The dance has smaller steps and other rhythms compared to lindy hop and provides a different feeling. Suitable to somewhat faster swing music.
Teachers: Linda and Lars
Sunday Clothing Flea Market
There will be a flea market for clothes at the Ordenshuset Tea dance on Sunday were participants go if they wish sell some garments and/or buy new ones!
If you wish to bring clothing to sell, please mark them with your payment/contact details. (For example, phone number for SWISH).
Contact info@swingum.se if you have further questions.