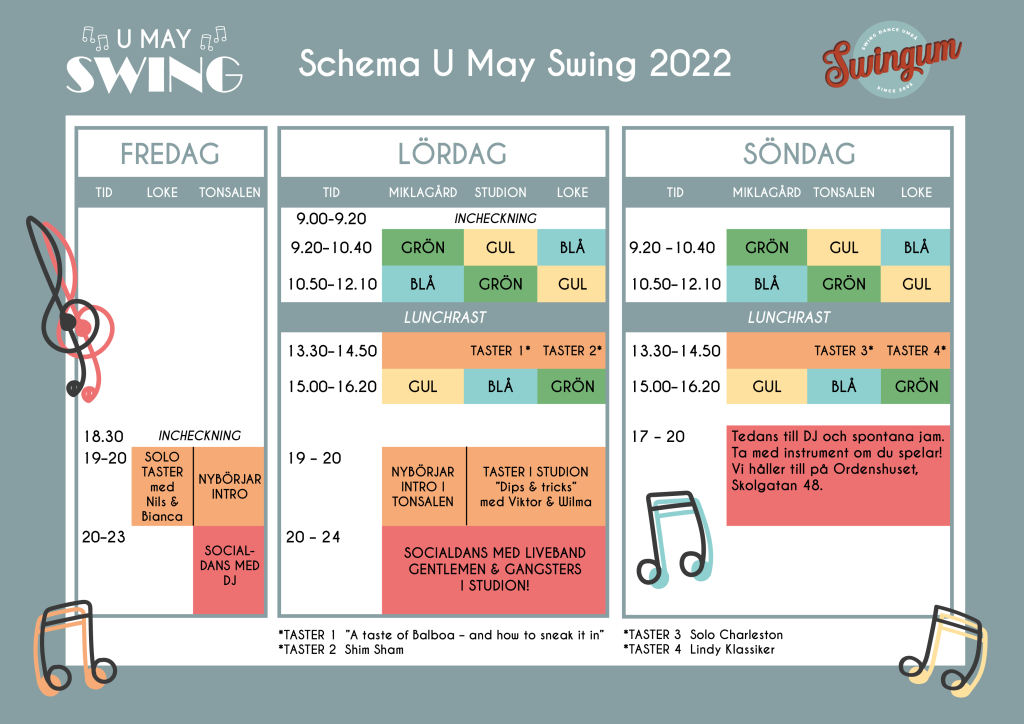 Wooohooo! Restriktionerna är borta och nu är det dags att komma tillbaka till dansandet igen! Se till att boka in den 20 till 22:a Maj i er kalender för en efterlängtad danshelg här i Umeå!
U May Swing 2022 erbjuder Lindy hop klasser med internationella och lokala instruktörer. Allt på bekvämt gångavstånd i centrala Umeå. Tre nivåer erbjuds med undervisning i Lindy hop och tasterklasser. Välkomstparty fredag kväll med DJ. Dansa till liveband (Gentlemen & Gangsters) lördag kväll på Folkets Hus. Helgen avslutas på söndag eftermiddag med en mysig tedans på Ordenshuset!
För de som bara vill vara med på kvällarna för att dansa eller lyssna på musiken går det att betala inträde på plats!

Registrera här: https://swingweb.se/shop/?org=swingum&p=3010
Länk till Facebook-event: https://fb.me/e/1EzBZCrn1
————
Wooohooo! The restrictions are gone and now it's time to get back to dancing again! Make sure to book the 20:th to 22:th of May in your calendars for a long overdue dance weekend in Umeå!
U May Swing 2022 offers Lindy hop classes with international and local instructors. All within walking distance from Umeå central. Three levels of Lindy hop tracks and tasters will be offered. A welcome party will be hosted Friday night with DJ-music. Saturday night you can dance to a live band (Gentlemen & Gangsters) at Folkets Hus. The weekend is then concluded with a cozy tea dance Sunday afternoon at Ordenshuset.
For those that only wish to attend the evenings to dance and/or listen to the music, a single entrance fee is paid at the location!
Register here: https://swingweb.se/shop/?org=swingum&p=3010

Link to Facebook-event: https://fb.me/e/1EzBZCrn1
Weekend Package – Ordinary Bird: 1500 SEK, Late Bird (Maj/May): 1600 SEK
8 timmar Lindy Hop plus tasters på respektive nivå. (Grön, Gul eller Blå)

Alla fester/socialdanser. (Fredag, Lördag och Söndag)
8 hours of Lindy Hop and tasters for each track. (Green, Yellow or Blue)
All parties/social dances. (Friday, Saturday and Sunday)
Inträde Fester / Party Entrance Fees
Fredag/Friday: Folkets Hus social dance – Gratis för alla! Free for all!
Lördag/Saturday: Folkets Hus Gentlemen & Gangsters – 200 SEK
Söndag/Sunday: Ordenshuset tea dance – 60 SEK. Gratis för medlemmar i Swingum! Free for Swingum members!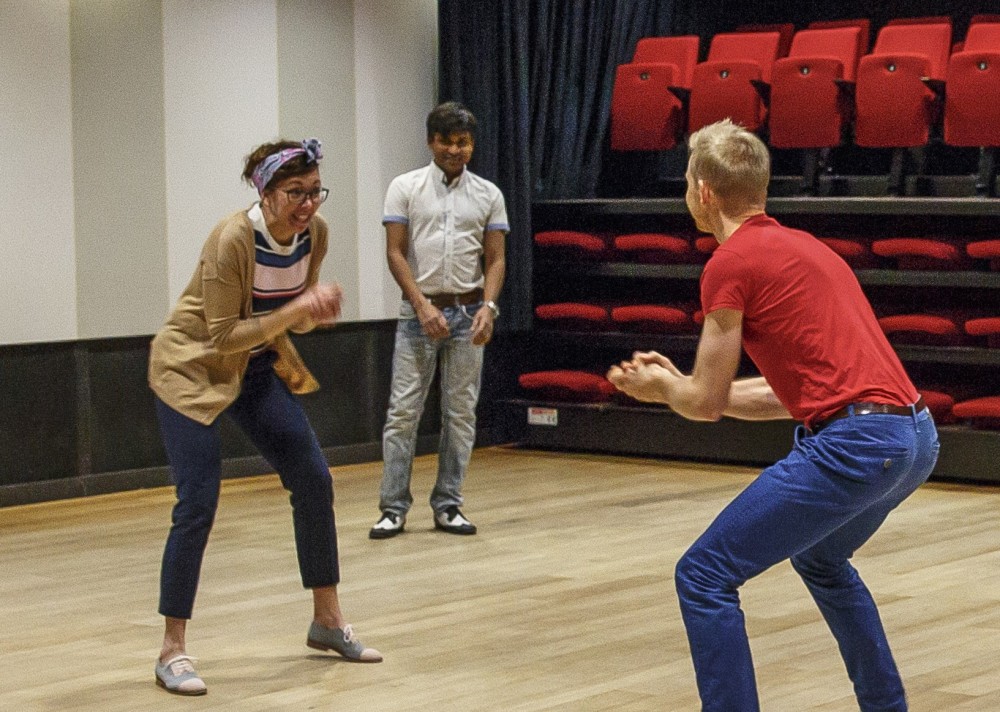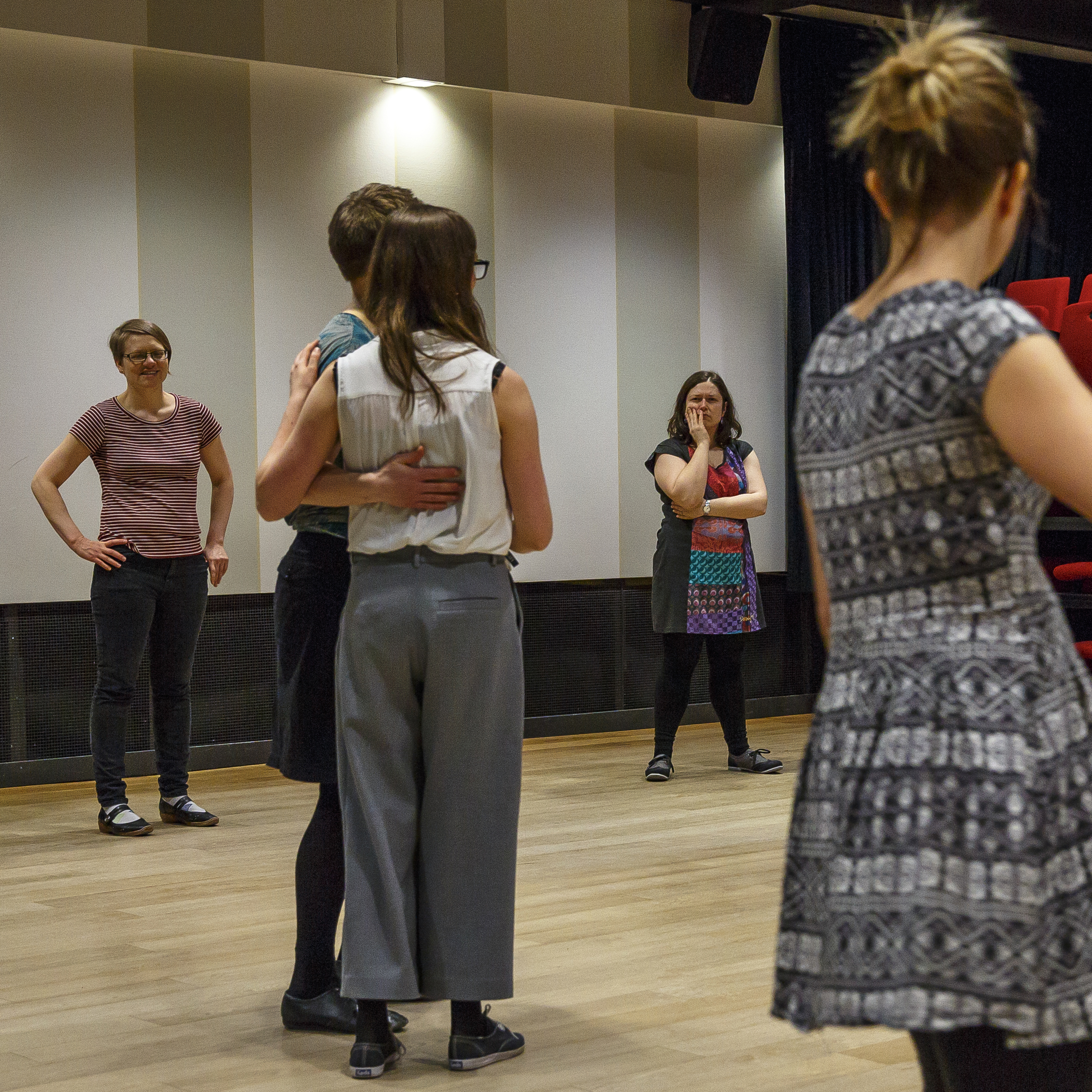 Du känner dig ganska grön i dansen. Du har gått en grundkurs, men har kanske inte hunnit socialdansa särskilt mycket ännu. Eller så var det länge sen du dansade så du vill komma igång ordentligt igen. Här kommer vi fortsätta att slipa på och utveckla de grundläggande turerna, men du får också lära dig nya roliga steg, figurer och tekniker i din swingdans. Antagligen har du dansat regelbundet mindre än 1 år och kanske även vågat dig ut på socialdansgolvet.

You are rather new to the dance. You have participated at least one lindy hop basic course, but perhaps not social danced much yet. Or – it was a long time ago you danced and want to start over again. On this level we continue to practice and refine the fundamental figures, and explore new steps and techniques. You have probably danced regularly less than a year and also tested to dance socially a few times.
Registrera här/Register here: https://swingweb.se/swingum/shop/?event=145211&info=1
Du känner dig ganska trygg i din dans och har troligen dansat regelbundet, både kurser och socialt, i 1-2 år, och har kanske tagit flera fortsättningskurser. Du har lätt för att blanda olika typer av turer och fotarbeten, börjar bli van vid att dansa i högre tempo och är inte rädd att utmanas med nya figurer, teknik och musikalitet. På den här nivån tycker du det är kul att prova på att improvisera lite och försöker ibland att anpassa dansen till musiken.

You feel rather confident in your dance and have probably danced regularly, both in courses and socially, during 1-2 years. You can easily mix different types of figures and footwork, started to get used to higher tempos and are not afraid of challenges with new figures, techniques and musicality. On this level you like to experiment and improvise and you have started to adapt your dance to the music.
Registrera här/Register here: https://swingweb.se/swingum/shop/?event=145212&info=1
Vid det här laget har du dansat aktivt i flera år, och du är som fisken i vattnet på socialdansgolvet. Du lyssnar in musiken och kan variera ditt fotarbete. Att dansa till högre tempon är inget du drar dig för och du lägger ofta till styling och variationer i din dans. Troligen har du gått alla kurser som erbjuds i din lokala förening, deltagit i workshops på andra platser och vill ha mer. På den här nivån ska grundläggande turer som t.ex. swing-out kännas bra även när tempot går upp. Den här nivån är det bra att stanna på ett tag.

At this point you have danced regularly for several years and dance like a fish in the water. You listen to the music, can vary your footwork, dance at higher tempos and add styling and variations to your dance. You have probably participated in all the courses at your local scene, been to workshops in other places and want more. At this level basic figures, such as swing-outs, feel effortless even at higher tempos. This is a level that you can stick around on for a while.
Registrera här/Register here: https://swingweb.se/swingum/shop/?event=145213&info=1
Bianca och Nils är swingdansinstruktörer, artister och koreografer på heltid, en passion som startade redan i mycket ung ålder.
Deras vägar korsades när Bianca flyttade till Sverige vid sexton års ålder och det var då de började uppträda och tävla tillsammans.
Nuförtiden reser de över hela världen för att undervisa, uppträda och tävla. De älskar att lära ut vad de tror på, det ger dem inspiration, glädje och tillfredsställelse. Bianca och Nils gillar att visa sin kärlek till dansen genom energi och entusiasm på scenen och de gillar att få alla sina elever att känna sig bekväma med att uttrycka sig genom sin dans.
————
Bianca and Nils are full time swing dance teachers, performers and choreographers, who both got stuck in swing dancing and its music, their biggest passion, at a very young age. Their paths crossed when Bianca moved to Sweden at the age of sixteen and that's when they started performing and competing together.
Nowadays they travel all over the world for teaching, performing and competing. They love to teach what they believe in, it gives them inspiration, happiness and satisfaction. Bianca and Nils like to bring their love for the dance through energy and enthusiasm on stage and they like to make all their students feel comfortable in expressing themselves through their dancing.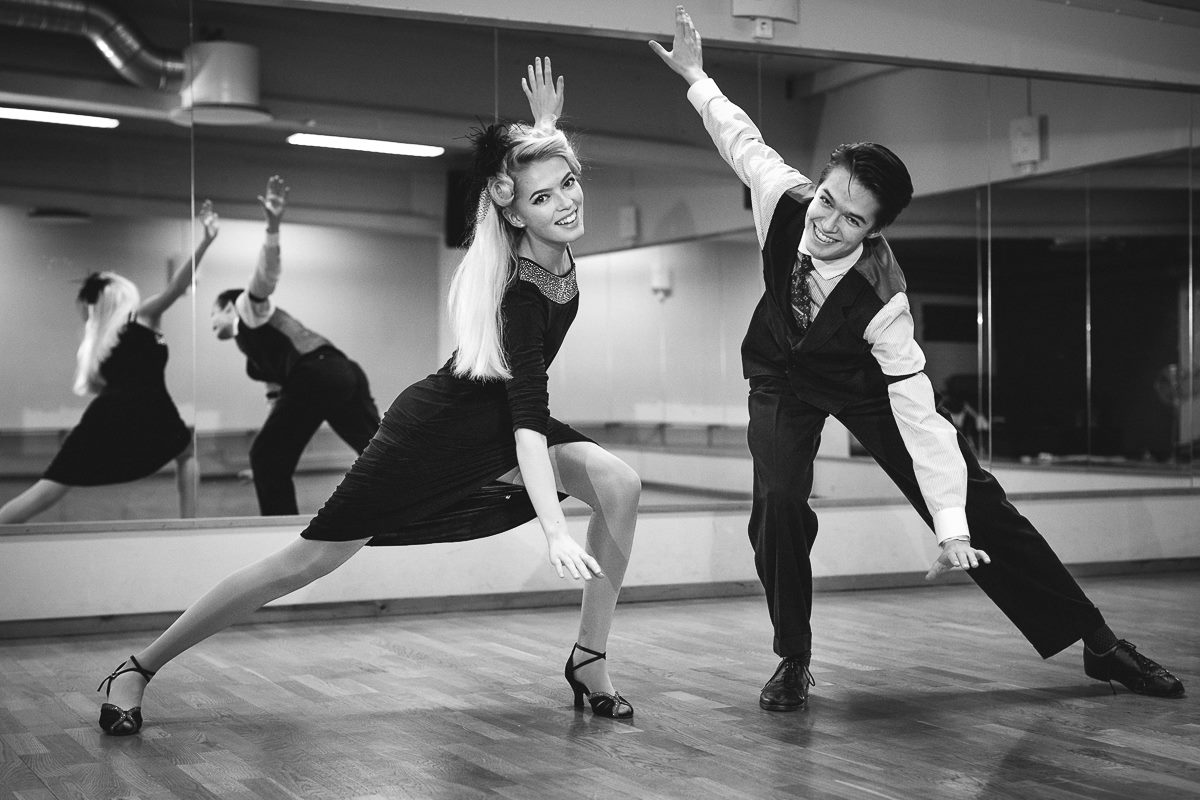 Syskonen Edlund började dansa bugg när de var sju (Viktor) och sex (Wilma) år. På ett mindre dansläger i Luleå fick de se Lindy Hop och Boogie Woogie och fastnade för det direkt. De är till stor del självlärda och är idag en del av de Svenska nationella lag som uppträder i både Boogie Woogie och Lindy Hop, med många imponerande meriter.
Idag reser de runt i världen och dansar tillsammans, en av deras favorit är danslägret i Herräng. De älskar att lära ut, socialdansa, uppträda och tävla. De tycker att den sociala scenen är lika viktig som tävlingscenen och båda delar är viktig för att bli en bra Swing-dansare. De säger själva att dans är en inofficiell fredsrörelse som enar och skapar en glädje likt inget annat!
————
The Edlund siblings started to dance bugg at age seven(Viktor) and six(Wilma). At a smaller dance camp in Luleå they witnessed Lindy hop and Boogie Woogie and fell in love with it instantly. They are largely self-taught and are today part of the national teams for both Boogie Woogie and Lindy Hop, with impressive merits.
Today they travel around the world and dance together, one of their favorite places being Herräng. They love to teach, social dance, perform and compete. They think the social scene is as important as the competitive scene and that both are useful to become an all round good Swing dancer. They say that dancing is an unofficial peace movement that unites and creates joy as nothing else does!
"The Gentlemen & Gangsters play traditional New Orleans hot jazz with a touch of swing. Focusing on authenticity in content and delivery, as well as a solid, driving rhythm, the group strive to play music that moves you and that stays true to the style of jazz giants such as Louis Armstrong, Bix Beiderbecke, Muggsy Spanier, Sidney Bechet, Duke Ellington, etc. Playing mainly for the lindy hop community, they perform all over Europe on a regular basis and dancers from all over the world have praised them for their energy, presence, and sensitivity to what matters to a dancing audience. The Gentlemen & Gangsters play jazz music as it was meant to be played: with the flair and sophistication of true gentlemen, yet with the grittiness and brute force of hardened gangsters."
Foto taget från bandets hemsida (http://gentlemenandgangsters.com/)