U May Swing 2020 offers Lindy Hop classes with international and local instructors! Everything within walking distance in central Umeå!
Every level (except beginner) offers about nine hours of both Lindy Hop and tasters! Warm up party Friday night with DJ. Dance to live music on Saturday night at Folkets Hus. The weekend concludes on Sunday afternoon with a tea-dance at Ordenshuset!
Prices
Level A:
Beginner (short track): 800 SEK
Level B-E:
Early Bird (Dec – Feb): 1300 SEK
Ordinary Bird (Mar – Apr): 1400 SEK
Late bird (Apr – May): 1500 SEK
Registration opens 15th of December!
We are sorry to inform you that we are forced to cancel U May Swing 2020, due to the current situation in the world with Corona. Our ambition is now to look forward to U May Swing 2021 instead. Hope to see you then!
Already paid registration fee
Have you already paid the registration fee for the workshop, it will automaticly be credited for you. That means that you can use the paid fee for other courses arranged by Swingum later on. If you rather see that the fee is refunded, you have to contact us at info@swingum.se and tell us that. State your registration reference and account information for where the money should be sent.
Until we meet again – stay healthy.
Regards
Swingum team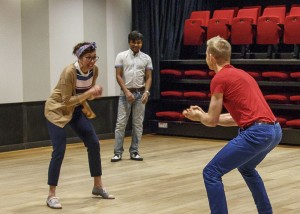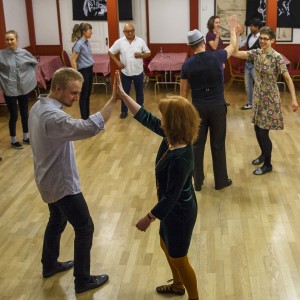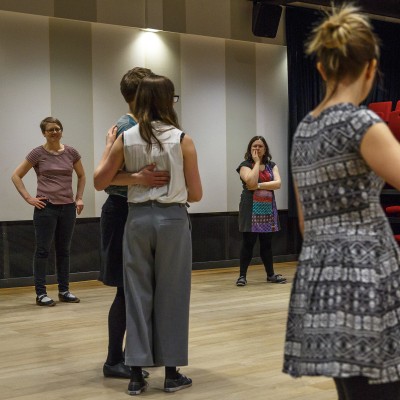 Levels:
A (Beginner): You have never danced lindy hop before. Or you have tried a little bit and know the basic step with a couple of figures. Anyway, here we will take it from the beginning with basic step on sixes and eights, and you will get to learn some fundamental figures like change-of-places, swingouts and Charleston.

B (Beginner-Intermediate): You have participated in at least one lindy hop basic course and know the fundamental figures like change-of-places, swingouts and Charleston. You have probably danced regularly less than a year and perhaps dared to dance out on the social dance floor. Now you want to try new fun steps, figures and techniques in your swing dance.
C (Intermediate): You have participated in several continuation courses and probably danced regularly, both courses and socially, for 1-2 years. You can easily mix six count and eight count, are starting to get used to higher tempos and are not afraid to challenge yourself with new figures, technique and musicality.
D (Intermediate-Advanced): At this point you have danced regularly for several years and thrive like a fish in the water. You listen to the music, can vary your footwork, dance at higher tempos and add styling and variations to your dance. This is a level that you can stick around on for a while.
E (Advanced): You have been swing dancing for a loooong time and on an advanced level, perhaps you are also an instructor yourself. You have probably taken every course in your local community, participated in workshops at other places and want more! At this level the tempo of the instruction is higher, and the instructors can suggest you switch to another level, if they believe you can do better there. If you are unsure if this is the level for you – ask your local instructor or an advanced dancer that you trust.
Audition: If you are aiming for Level E (advanced) you will register for level D/E. Before the event you will be participating in an audition where you will be placed in either D or E. If you are only registering for D you do not have to participate in the audition.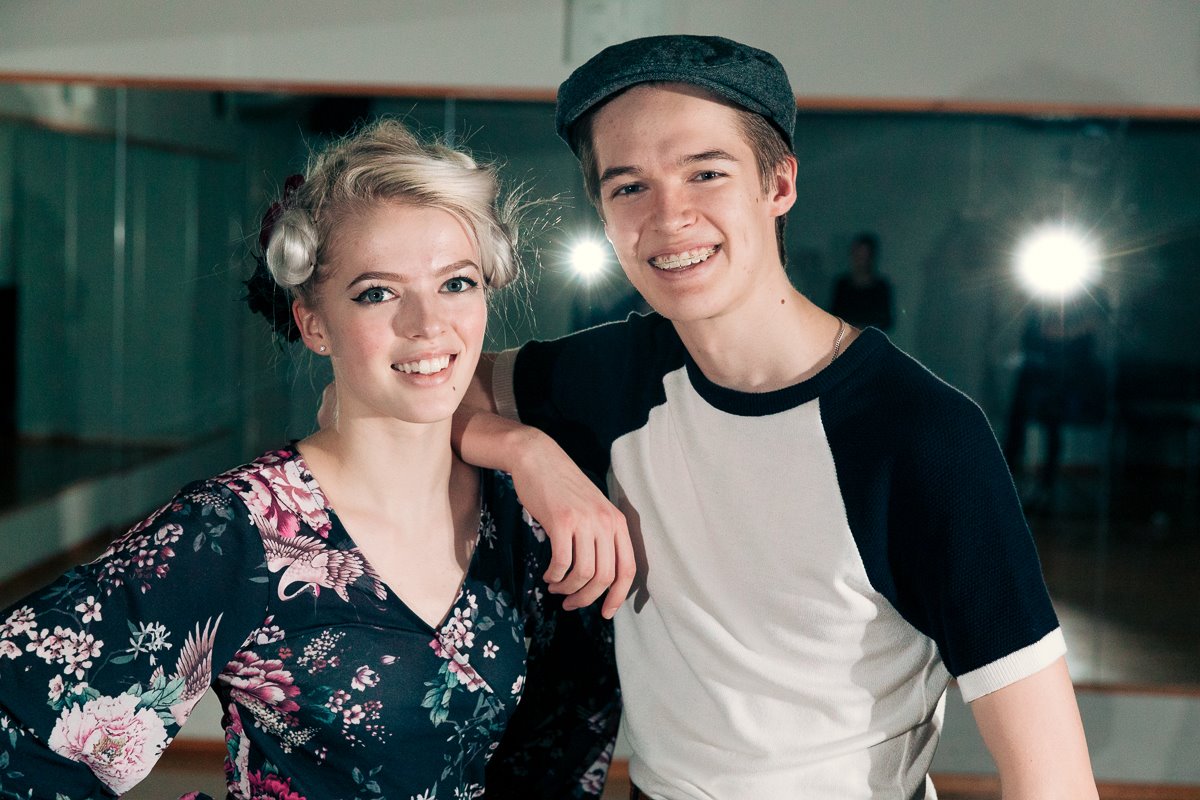 The Edlund siblings started dancing at the young age of seven (Viktor) and six (Wilma) with swedish bugg. At a small dance camp in Luleå they came across Lindy Hop and Boogie Woogie and got stuck. They learnt it mainly by watching videos on the computer. Today they are part of the Swedish National team in both Boogie Woogie and Lindy Hop with a long and impressive resultlist. They have widened their horizons by attending a dance gymnasium where they´ve studied jazz, modern dancing, ballet and choreography.
Together they travel around the world dancing, with the dance camp Herräng as "the place of the year". At Herräng and other events they've been influenced by the legends and from all over the world. Both Viktor and Wilma have participated in various shows. They love teaching, socialdancing, performing and competing. They believe that the social scene is equally important as the competition scene and that both parts are important on the way of becoming a good Swing-dancer. Dancing is their passion! Together they want to spread the joy of dancing around the world. In their expression dancing is like an inofficial peace movement. It unites, gives new friends and lifts spirits like nothing else!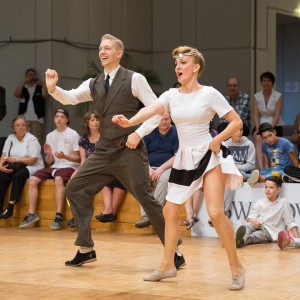 Isabella Gregorio is a well-known international dancer. She teaches and performs around the globe, exhilarating students and audiences of all ages. She is well known for her crazy style and her great expression. Her professional career started in Italy 2002, with a quick start of claiming several titles in numerous international competitions as well as teaching across the world together with Vincenzo Fesi. Isabella has been dancing different kinds of dance
since she was a child.
Pontus Persson has been dancing since he was 5 years old, actively competing (since the age of 6) and started teaching professionally as a 16-year old. After graduating, he moved to Stockholm in 2008 to evolve his dancing with the
show company Harlem Hot Shots. He has since then been spreading the dance through shows, competitions and teaching.
Isabella and Pontus started to actively dance together January 2011. With light attitude, their classes are known for being highly pedagogical, technical and focusing on individual improvement.
"The Gentlemen & Gangsters play traditional New Orleans hot jazz with a touch of swing. Focusing on authenticity in content and delivery, as well as a solid, driving rhythm, the group strive to play music that moves you and that stays true to the style of jazz giants such as Louis Armstrong, Bix Beiderbecke, Muggsy Spanier, Sidney Bechet, Duke Ellington, etc. Playing mainly for the lindy hop community, they perform all over Europe on a regular basis and dancers from all over the world have praised them for their energy, presence, and sensitivity to what matters to a dancing audience. The Gentlemen & Gangsters play jazz music as it was meant to be played: with the flair and sophistication of true gentlemen, yet with the grittiness and brute force of hardened gangsters."
International Traditional Jazz Dance & Music Festival – HARLEM 2013 (Vilnius, Lituenia)
Image taken from the bands website (http://gentlemenandgangsters.com/)
We invite everybody to prepare a little something, maximum 60 seconds, to be performed on Saturday night. It can be anything related to Swing and you decide if you want to go solo, couple or as a team. Remember, it doesn't have to be good, but it must be short! Send us an e-mail before the weekend, at info@swingum.se, with a heads-up about your participation on this, and if possible, also providing us the music as a sound file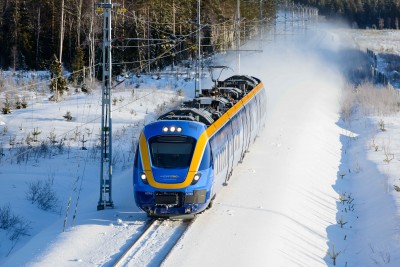 There is an opportunity in the sign-up sheet to host foreign dancers or ask for hosting by a local dancer. We cannot promise any hosting, but will do our best with the "match making" as the registrations arrive.
Umeå is located in northern Sweden and is well connected through train, airplane (UME), ferry, bus (e.g., Y-buss from Stockholm) and asphalt roads (E4 and E12).